Finding the right keywords is the core of a successful SEO campaign. If you do this first step of SEO properly, then chances of gaining organic rankings will improve considerably. And, of course, you need useful tools for keyword analysis. Here, I have compiled a list of 15 best free keyword research tools that help you to discover more keywords.
The basic features you will look in a keyword research tool is that it should be able to tell you the search volume based on different locations. Apart from that, it should show you other similar and closely-related keywords so that you have plenty of options before choosing the best one for your blog or business website.
Most of the best keyword research and analysis tools in the SEO industry are paid ones with the cost which can't be afforded by individual bloggers and business owners who are just starting their journey of building an organic presence.
However, you will require proper keyword research or a combination of tools to make the most out of the process. These days keyword research is getting harder day by day as the availability of free keyword research tools is on the decline. Recently Ubersuggest has gone from a free model to a subscription-based model, which is still cheaper than Moz, Semrush, Mangools, and other primary keyword research tools.
As most of the tools are getting paid, I thought to do some research and find some cool free tools and ways to do keyword research. We the SEO Individuals deserve some free tools to compete with big agencies.
With that, let's begin our journey.
What Is Keyword Research?
Simply put, keyword research is a process of finding essential phrases that your potential customers might look for in the search engines, be it Google, Bing, Yandex, Baidu, or Duck Duck Go.
Types Of Keywords In SEO
Let's first understand what the different types of keywords in SEO are. Knowing which type of keyword to choose for your next blog or rank your product services page is crucial if you want to see better organic traffic and conversion rates.
Based On Length
1. Short-Tail Keywords
These types of keywords are usually up to 3 words and have high search volume. However, it is trickier to identify the searcher's intent whit short-tail keywords.
For instance, if someone searches for shoes, then it is difficult to tell whether he is looking for information or buy shoes. Even if we assume that the searcher wants to buy shoes, then we can't crack down on which type of shoes he/she is looking for and their purpose, such as running, formal, informal, or for any other occasion.
Hence, in the case of short-tail keywords, the conversion rates are usually low. I will only recommend you to go for short-tail keywords if you want more traffic to your website, but they are pretty hard to get ranked on the first page of Google. In case you have just started blogging or launch your business website, then don't sin targeting short-tail keywords. You will probably get nothing out of it.
Short-tail keywords are beneficial when you have established authority in your industry, and your website has a competent Domain Authority.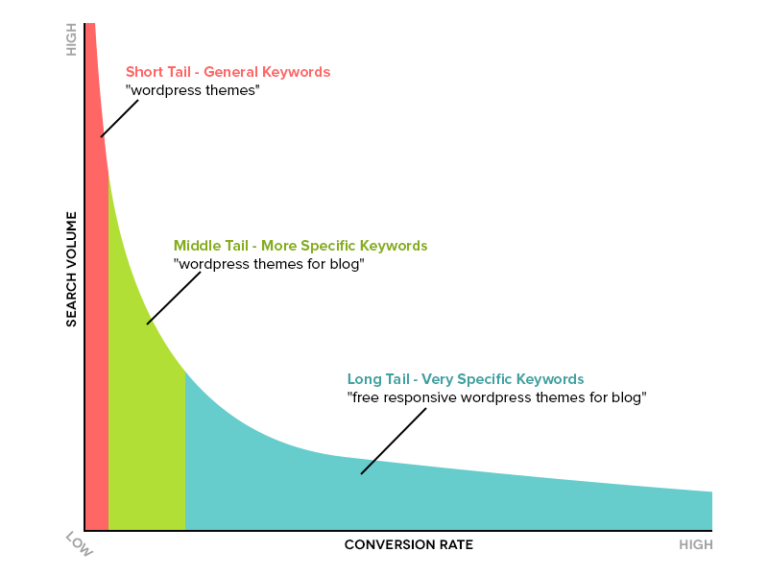 Image Credit: SEOPresspor
2. Mid-Tail Keywords
Mid-tail keywords fall between short-tail keywords and long-tail keywords. They have a good search volume but have higher competition and lower conversion rates than long-tail keywords
An example of a mid-tail keyword is "best running shoes." As you can see here, the intent of the searcher is a bit clear than short-tail keywords. Interestingly, it is still not much pretty clear, and the keyword would always lead to lower conversions.
For this keyword, the searcher is looking for various options available in the market for running shoes.
3. Long-Tail Keywords
Now, these are the keywords loved by individual bloggers like me and anyone doing SEO for any small business. The only downside of picking up long-tail keywords is that their search volumes are not very much. However, long-tail keywords can reap more fruits for your business as their conversion rates are higher.
An example of a long-tail keyword is "New Balance Fresh Foam 880v10," which is a running shoe for men. Here, the searcher is specifically looking for a specific product, and if you have a right landing page of this product, then the rate of conversions will be higher.
Targeting Keywords
1. Product Keywords
These keywords are related to your brand products and services. For example, Google AdSense support email. Here, the user is looking for specific brand-related information. Furthermore, this also implies that with these types of keywords, users are more interested in knowing more about a particular brand.
Can you target them? If you are a competitor, you surely can, but the chances of outranking are pretty low. To successfully target a product keyword, you should first take a look at the SERPs (Search Engine Result Pages). If the first page is full of your competitor's page, then you can skip that particular brand keyword.
2. Customer-Defining Keywords
These type of keywords identifies the characteristics of customers and helps you in creating buyer personas for your business.
An example of customer-defining keywords is "best running shoes for women," as it clearly defines that searcher is looking for women's shoes.
3. Branded Keywords
When your business starts building authority and becomes popular within the audience base, then users start searching with your brand name to find relevant content or services.
For example, a Nike store near me is a brand keyword for Nike. Interestingly, it is also a Geo-targeted keyword which we will see next.
4. Geo-Targeted Keywords
These keywords identify a location, and the search intent behind these keywords is to find a product or service near a location. Another example of a geo-targeted keyword is "shoe store in New Jersey."
5. Competitor Keywords
These are the keywords for which your competitors are ranking well in the SERPs. To find these keywords, you have to perform competitor analysis using any SEO tool or keyword research tool. After that, you will get a list of competitor keywords
6. LSI Keywords
Related or LSI keywords (Latent Semantic keywords) are those keywords that are closely related or variations of your primary keyword.

The best part is that Google also shows these LSI keywords at the bottom of the search results page, as shown in the screenshot above.
7. Market Segment Keywords
All the keywords that fall in your industry or business of interest come under market segment keywords.
Keywords Based On The Buyer's Journey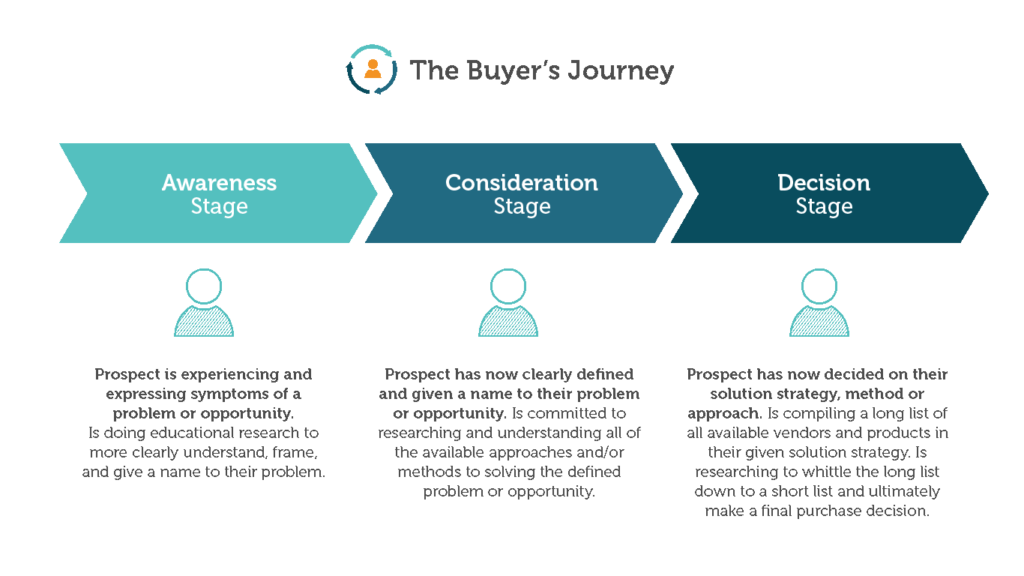 Image Credit: MOZ.
1. Informational keywords: Customers use informational keywords when they want to know more about a product and service. The conversion rate for these types of keywords is low as the customers are at the awareness stage of their buyer's journey.
If you are targeting an informational keyword for your blog, then you should create a page with in-depth information related to that keyword. The main motive should be that once users visit this webpage, they should not go elsewhere to find any information related to that keyword or topic.
2. Navigational keywords: With navigational keywords, the searcher intends to find information about a specific brand or service. The customers using navigational keywords are in the consideration stage of their buyer's journey.
3. Transactional keywords: When the searcher has finally selected a product or service to buy, they use transactional keywords such as buy running shoes for me or the price of Nike shoes.
Best Free Keyword Research Tools
Now that you have understood what are the various types of keywords. Let's see how you can perform keyword research process using these best free keyword research tools.
1. Keyword Surfer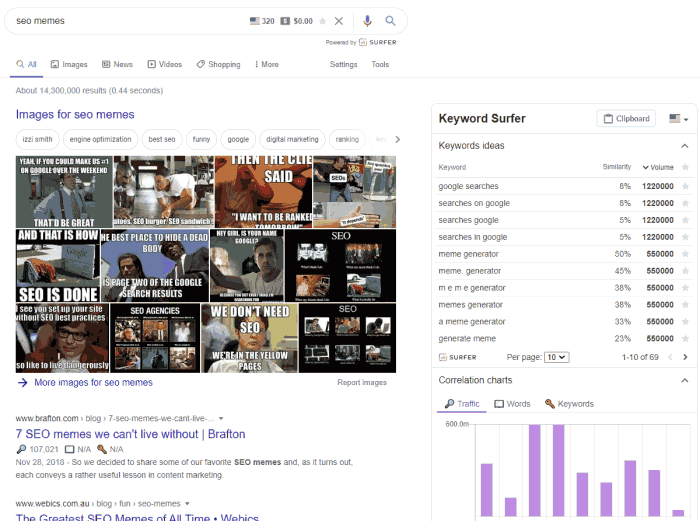 Keywords Sufer is a free Chrome Extension that makes the keyword research process as smooth as possible. There is no requirement of login or sign up, simply install this Chrome Extension to get search volumes of keywords right on the search results page.
As you can see in the screenshot above, Keyword Surfer displays search volume, country, and CPC in the Google search bar. Additionally, the free Chrome extension also shows keyword suggestions, related terms, and their search volumes.
Other data that Keyword Surfer shows on the SERPs page:
Similar keywords with their search volumes.
Choose from 70 countries to get search volumes.
CPC for your primary keyword.
Estimated organic traffic and word count of web pages on the SERP.
2. UberSuggest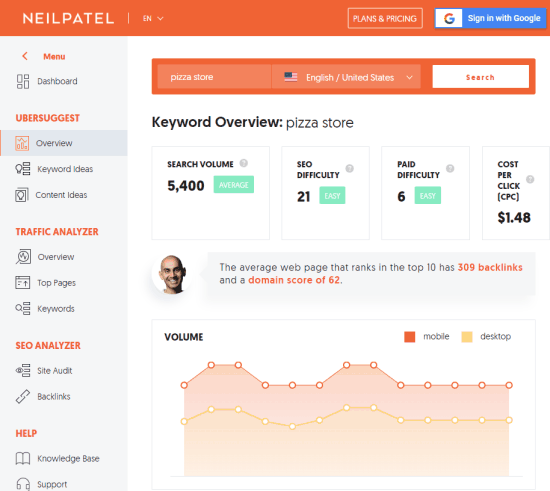 Neil Patel's UberSuggest is another one of the best free keyword research tools out there. You will have to create an account to unlock to the full potential of Ubersuggest as it shows more keywords data when you are logged it.
One of the best ways, you can use it to find competitor's ranking keywords and find easy to rank keywords from that database that you can target to gain more traffic.
Apart from keyword research, you can also use Ubersuggest to –
Discover content ideas
Analyze competitor traffic
Find top pages of a website
Competitor's ranking keywords
Do a site audit
Analyze backlinks
3. Rank Tracker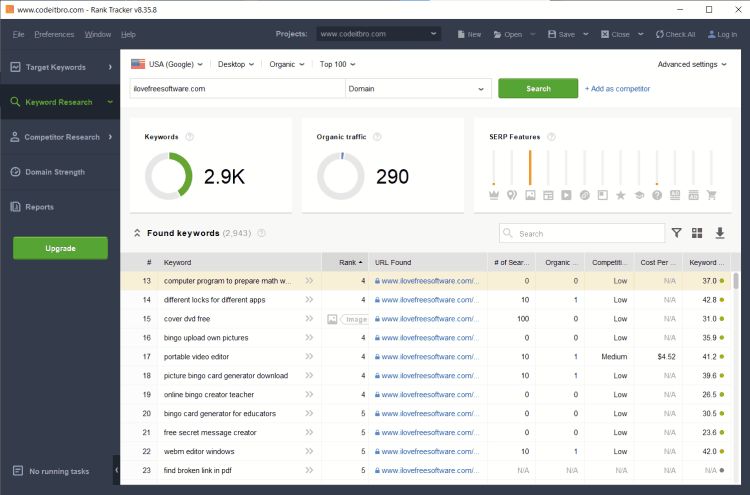 RankTracker is another free keyword research tool that comes with a plethora of features that you can use to discover hidden gem keywords for your website.
It is a part of SEO Powersuite, but you can also download and install it individually. Basically, it is a rank tracking software, but you can also use it for the keyword research process.
The only limitation of RankTracker is that in its free version, you can't export keyword research reports. Hence, it is only useful if you are looking for potential keywords for your next blog. For extensive keyword research, where you would want to export all the data for later analysis – RankTracker is not for you!
However, this keyword research software also combines the functionality of discovering new potential keywords. Hence, I would still recommend you to give it a try.
Keyword research features of RankTracker:
19 different keyword suggestion tools such as Google Keyword Planner, Auto Suggest, Related Searches, Bing Search, and Yahoo Search Assist
Suggest best keywords to optimize your site for with Keyword Efficiency Index ratio
Keyword research report
Competitive SEO intelligence
4. KWFinder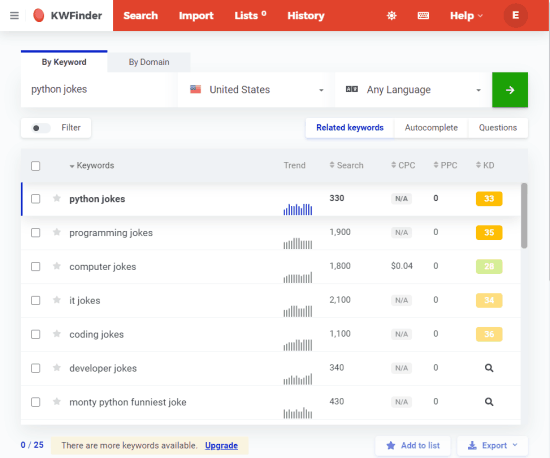 Another freemium keyword research tool in this list is Kwfinder. It is one of most acknowledged keyword research tool in the SEO industry as it offers reliable data along with keyword difficulty score.
However, it is not a completely free tool – you will have to create a free account which will give you access to KWfinder for ten days with a limited number of rows in the keyword research results.
I have been using this tool for a long time now, and I am quite impressed with it. The best part is that it shows SERP results of search keywords, as you can see in the screenshot above.
Other features of KWFinder:
Search volume with historical data
Local keyword research
5 lookups per 24 hours
25 related and 10 competitor keywords per lookup in a 10-day trial
5. SEMrush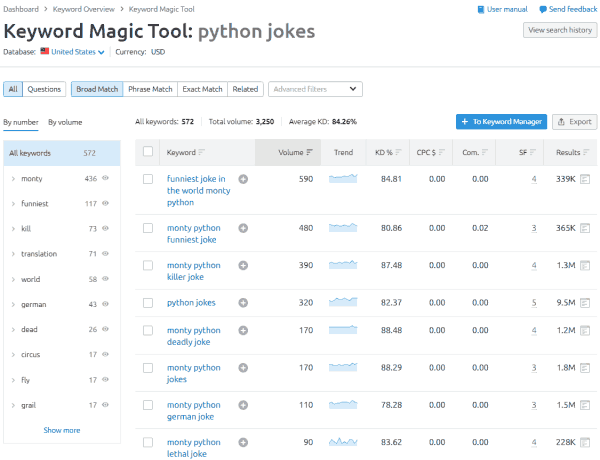 Keyword Magic Tool by SEMrush is another free keyword research tool that provides search volume along with other useful metrics such as keyword difficulty, competition, CPC, and other competitive intelligence data like top-ranking pages.
Just like other free keyword discovery tools in this list, Keyword Magic Tool is limited. With its free version, you can perform only 10 searches per day.
Types of keywords shown by this tool:
Broad match keywords
Phrase match keywords
Exact match keywords
Related keywords
Getting started with SEMRush is easy, just create a free account from the link above and access the Keyword Magic Tool from the left panel. After that, select the country and enter the search phrase. Hit the Search button to see all the keywords, as shown in the screenshot above.
The best part is that you can export the keywords data as Excel or CSV file.
6. Google Trends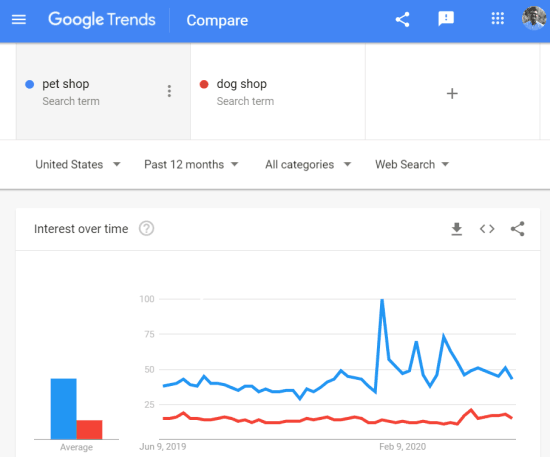 Google Trends is not a full-fledged keyword research tool as it doesn't display their search volumes. However, it is a pretty great tool to find search interests of keywords in various regions around the world.
So, thinking about how it is useful?
Well, suppose you are offering business services around a local region, then you would like to understand the trend of keywords of your potential buyers. Is the keyword search interest increasing or decreasing over time?
If its decreasing, then that simply means people are not looking for those services anymore, and you would like to focus on other keywords with positive interest growth.
Best of all, it comes from the arsenal of Google, which simply means we can trust the authenticity of the data.
Use Google Trends to find search interests by locations. You can even compare the search interests of queries.
One of the main drawbacks of Google Trends is that you can't use it to find search interests of low-search volume keywords.
Last time, I used Google Trends to figure out whether to optimize my office website either with cloud communication or cloud telephony or UCaaS keywords. In my research, I found a great insight that UCaaS search interest is overgrowing in our targeted countries.
Moving forward, I then suggested our managers, optimize the website architecture to gain topical authority on UCaaS related terms. Once, the work is finished, I would love to share the results with you.
7. Google Search Console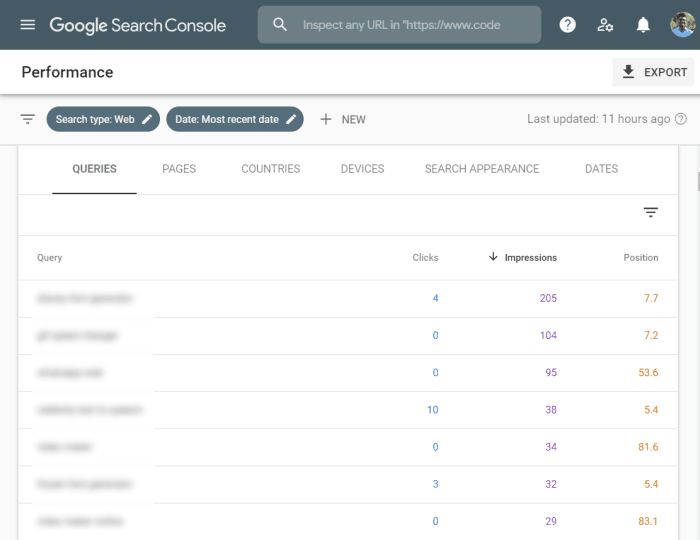 Google Search Console is a set of webmaster tools that you can use to submit your website for Google Indexing and find various site issues such as coverage, mobile usability, AMP, etc.
Even though it doesn't offer any keyword research tool as Bing Webmaster provides, you can use it to find potential keywords that you can use to give a significant boost to your organic traffic.
How To Use Google Search Console To Find Keyword Opportunities?
Just open the Search Performance of your main domain property and sort the results (descending) based on impressions. Now, you will see queries with top impressions. If the CTR (click-through rate) is low, then you can optimize meta titles and description of those pages.
The second way to find the right keywords is to scroll to the last pages of Search Performance report where you will find new keywords for which your webpages are appearing. Now, take note of those keywords and audit your content accordingly.
If those keywords are already in your content, then there is no need to over-optimize. However, if you haven't used those keywords, then sprinkle those keywords over your content. Update that webpage and share it across social media channels to send social signals to Google.
In some scenarios, you would like to target these keywords in a new webpage or blog post. If the keyword requires new long-form content, then do give the due respect. I have seen excellent results in increasing my website traffic using this tactic.
8. Google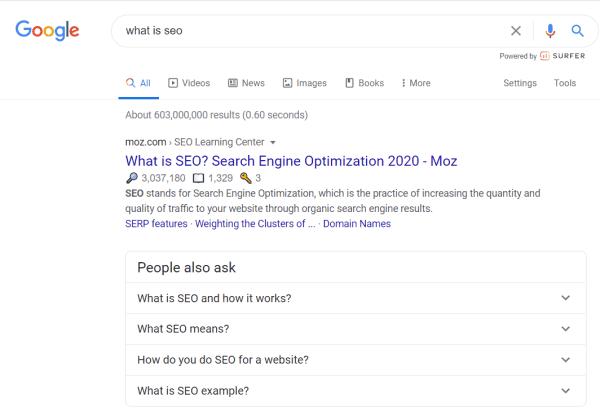 Yep, you heard it right – Google can be used as a keyword research tool. To do keyword research using Google is pretty straightforward. Simply, visit the search engine and start typing your primary keyword or topic.
Google starts suggesting close related keywords to phrase or term you are typing. These keywords are shown by Google Autosuggest feature. Take note of these potential keywords as you might want to use it later.
Now, on the search results page, you can also find LSI (Latent Semantic Indexing) keywords which are closely related variations of your searched keyword. You should sprinkle those keywords in your webpage or blog post to increase your chances of ranking for your focus keyword.
Along with LSI keywords, you can also find related questions that searchers ask on Google from the People also ask section, as shown in the screenshot above. Nowadays, many bloggers are using these questions as FAQs at the end of their articles. You can also try this tactic but for best results also implement FAQPage schema on your webpage or article.
9. Google Keyword Planner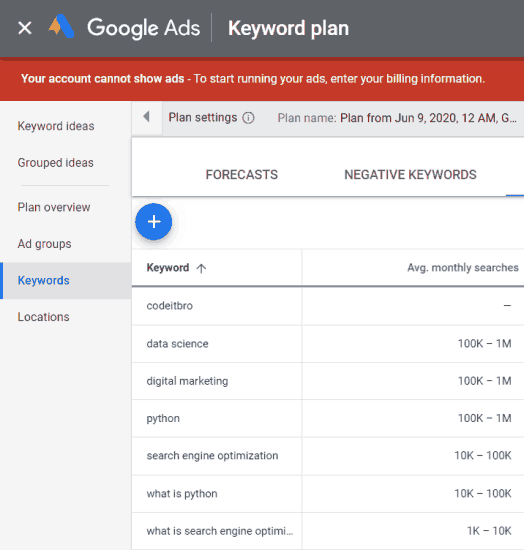 Google Keyword Planner is another free keyword research tool that you can use to discover potential search phrases. The only downside is that you need a Google Ads account to see the exact search volume of keywords.
Otherwise, you will see only a range of search volumes, as shown in the screenshot above. Back in the old days, this data was open for all and Google Keyword Planner was popular among the SEO community. But, the day Keyword Planner started providing keywords volume in full ranges, it began to lose its relevance.
Here is a comprehensive guide from Brian Dean on how to use Google Keywords Planner.
10. Moz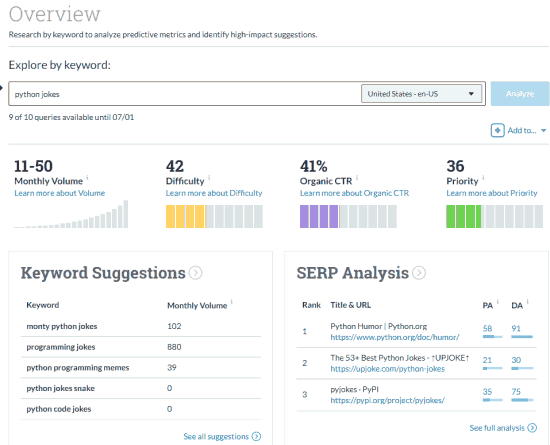 MOZ is one of the most popular brands in the SEO ecosystem. It is popularly known for its SEO suite offering useful tools for comprehensive backlink analysis to a primary site audit.
Additionally, it offers a robust and free keyword explorer tool as well. All you have to do is create a free account on MOZ to use its keyword research tool.
The main limitation is that you only get 10 searches per month. As compared to other free keyword research tools, this is quite limited. But, if you have a credit card, then I will recommend you to take its 30 days free trial.
In its free trial, you will get sufficient searches for keyword explorer. Export all the essential data and analyze it later.
11. Jaaxy

Jaxxy is another free keyword research tool that you can use to find relevant and potential keywords for your website. In its free version, it allows you to perform 30 keyword searches per month. However, you will only get 20 results on per search.
The tool is useful for individual bloggers as it gives enough results for fundamental analysis. For in-depth keyword analysis, you will have to upgrade to its premium version.
In its keyword research reports, you can find the following metrics:
Avg – Average monthly searches
Traffic – Estimated traffic you will get for a keyword if you rank for it.
QSR (Quote Search Results) – the number of competing domains ranked in Google for exact this keyword
KQI (Keyword Quality Indicator) – Gree is great, yellow is okay, and red is poor.
SEO – A score based on traffic and competition. Higher the score, the more likely you will rank for these keywords.
12. Keyword Sheeter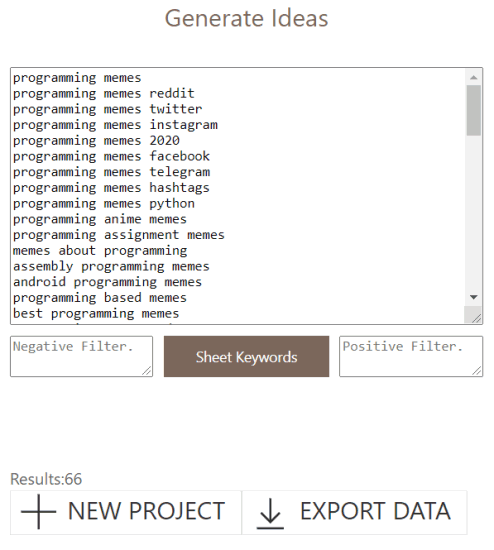 If you want to generate a bunch of ideas around your primary keyword, then Keyword Sheeter can prove to be a handy keyword research tool.
The only limitation is that it won't tell you the search volume of keywords. Other than that, it is a pretty useful tool to generate ideas, as you can see in the screenshot above.
Visit the link provided above, and specify your primary keyword. After that, click on the Sheet Keywords button and Keyword Sheeter will generate keywords around your primary keyword.
The best part is that you can export the generated keywords as a CSV file. You can use this CSV file to get search volumes using any of the tools above. If you take 30 days free trial of SEMRush, then you can quickly get search volume for these generated ideas.
Moving ahead, you can then make an informed decision to which keywords to pick up and which one to leave.
13. AnswerThePublic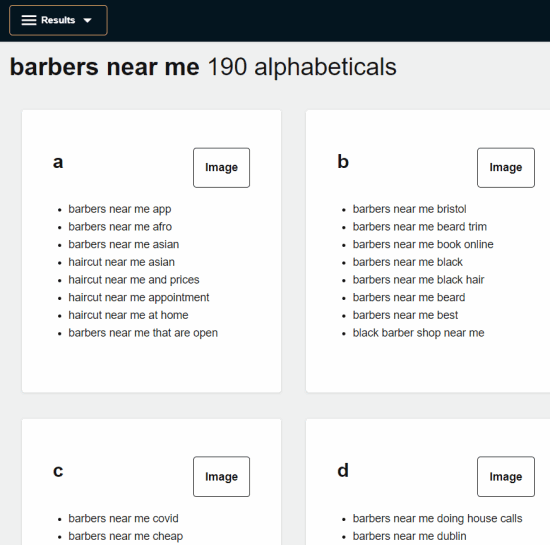 AnswerThePublic is one of the best tools for keyword research as it provides tons of closely related keywords from Google autosuggestion. Getting started with AnswerThePublic is pretty straightforward, go to their website and enter your keyword to generate ideas.
Types of keywords you can discover using AnswerThePublic:
Questions – what, who, can, where, why, will, when, are, how, and which
Prepositions – is, for, with, near, can, without, and to
Related – VS, versus, or, and, and like
Alphabetical – [your search term] + phrases starting from a to z.
Above all, you can download the keywords report as a CSV file. Now, if you also want to get the search volumes of these keywords, then use any other tool in this list or the free trial version of SEMRush.
14. QuestionDB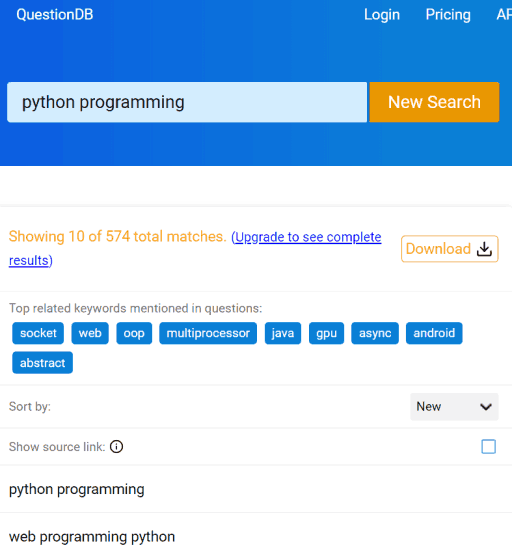 QuestionDB is a tool for generating blog topic ideas. So, if you have run out of ideas to craft your next blog spot, you can give this free keyword research tool a try!
Visit the website from the link above and enter your focus keyword to search. After that, it generates ideas related to your searched term, as shown in the screenshot above.
So, what it does is that it merely returns the questions asked related to your searched keyword. The results are pretty good, and you can find any topic from the results for your next blog.
15. Soolve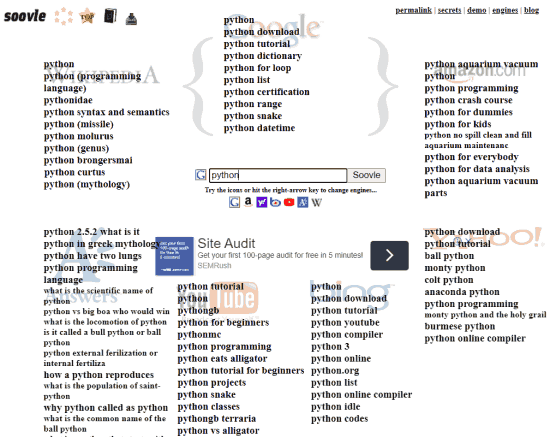 Soolve is a free Keyword discovery tool that you can use to find keywords on seven different platforms, including Bing, YouTube, Yahoo, Amazon, and Answers.com at once.
Just visit the website and start typing a term in the search box. The tool automatically starts generating keyword suggestions for each platform in the real-time as you are typing.
Final Thoughts
With these excellent free keyword research tools, you can dig deeper into the keyword research process and find potential keywords to target
Grab these tools and start doing some groundbreaking keyword research. In case I missed any tool on this list, feel free to suggest them in the comments section or shoot an email at [email protected].
Subscribe to my mailing list, if you want similar articles in your inbox. Don't worry! I hate spamming too. 🙂