A technology that has made a lot of things possible in the 21st century is the Internet. Commerce has become e-commerce, the newspaper has evolved as e-paper, books have been converted and circulated as e-books on the internet. There is one more evolution that has changed today's world of marketing, which is Digital Marketing.
What Is Digital Marketing?
Digital Marketing is a portion of marketing that utilizes the internet and other online technologies and platforms to promote the products and services of a company. As the definition suggests, it might seem a straightforward way to do marketing and generate leads for your products and services. After all, you just need an internet connection, a computer device and you can start promoting products & services.
Digital Marketing is not rocket science. All you need is an understanding of the various components of digital marketing and a lot of practical experience. Digital Marketing knowledge can be achieved through online sources. Still, practical experience is crucial to understand the excellent basic principles of online internet marketing to succeed.
In this article, you will learn about digital marketing and its various components. You will also learn about sales funnel and how to utilize each of the digital marketing components along with this sales funnel strategy to increase conversions and grow the revenue of your business.
What Are The Components Of Digital Marketing?
Digital Marketing is a term that includes a wide array of techniques. As a marketer, you should focus on all the components and find out which one or set of components is giving you the best result.
Also, digital marketing is a field of constant evolution, and a few techniques that were effective yesterday might not work today. So, you should always be updated with the market and associated digital marketing trends.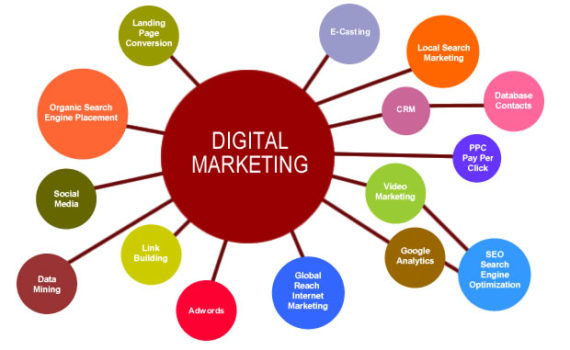 We can divide the Digital Marketing into the following components:
Web Design
Content Marketing
Social Media Marketing
Email Marketing
Search Engine Marketing or SEM
Search Engine Optimization or SEO
1. Web Design
To run your business online, you either require a website or an app. But, this is not as straightforward as it seems. Back in the old days, having a website was sufficient to impress your clients and customers to grow your business. But, now, the look and feel of your website designs also matter.
Web design is also crucial in terms of conversion rate optimizations. What color combination you are using, consistency in design, user flow, how easy customers can find information on your website, and other factors play an essential role in your online success.
The reason for choosing web design as the first component of digital marketing is that its success defines whether other digital marketing components will succeed for your website or not.
Keeping in mind that Web Design is the most critical component of digital marketing, you should always focus on making it intuitive and engaging.
The loading speed of your website also matters. Pages with load speed less than 3 seconds offer a positive experience to users and also helps in reducing the bounce rate and increase conversion rates.
Based on the latest Google announcements, page experience will be a ranking factor soon, and thus you should also focus on this department.
2. Content Marketing
Content Marketing is a strategy to win leads and profits using a content management system (CMS) platforms. So, in simple words, you can generate content like blog posts, comments, and any other kind of content to describe how useful your product is.
Well, it might seem that you just write about your product and people start buying it only by reading it. But it is not that simple. You will have to provide some value-added services along with the content where you describe your product.
Let's understand content marketing by an example of a SaaS provider organization, Serosoft Solution. The company sells SaaS services to academic institutions. Let's say we read two articles from Serosoft, and we need to decide which one is driving us to buy their services.
The answer is simple. The blog that provides us more helpful information related to solving our problems will drive us to take more action. On the other hand, if there are only sales information and blatant product promotion, we would simply search for other SaaS service providers.
So, while marketing digitally using the coherent content marketing strategy is critical. You should try to provide some value or insights to your targeted audience, which can drive them to buy your product or services.
3. Social Media Marketing
Today, more than 2 billion people are using social media all over the world. So many people at this platform make social media an excellent choice for sharing your products & services as they are potential buyers.
Social Media might have a group of buyers, but finding a target audience can be crucial. You can not talk about technology in a group where people are coming to discuss recipes. Targeting your audience should be done carefully.
The critical thing to take note of before starting your social media marketing campaign is that audiences on different platforms are different in terms of engagement and their reaction towards a piece of information. Therefore, choosing which platform to target at first is the real game-changer.
Additionally, it will also encourage you to create useful content for social media and not worry about gaining followers and likes at the starting phase. I plan to cover social media marketing in depth on my blog as it is close to my heart, and I enjoy my time on different social media channels and engage with the audience.
Facebook used to be the most popular platform, but today there are many potential channels such as Instagram, Twitter, YouTube, and LinkedIn.
Small businesses can focus on organic growth as it is cost-effective, but with a low budget, they can give a boost to their content marketing strategies and drive potential buyers to their websites. Conversely, medium to big enterprises can use a significant amount of budget to increase their reach and building a brand.
4. Email Marketing
You must have received a few emails from e-commerce sites like Amazon or Flipkart about product discounts and online sales. If yes, then you are already familiar with email marketing, which is an economic branch of online marketing to engage with potential prospects and convert them into long-term loyal customers.
As per the sources, email marketing can earn you $44 for every $1 invested. Digital marketers know the importance of email marketing. Major companies, including Google, have started providing an option where they seek user acceptance to receive emails about products, services, and Deals.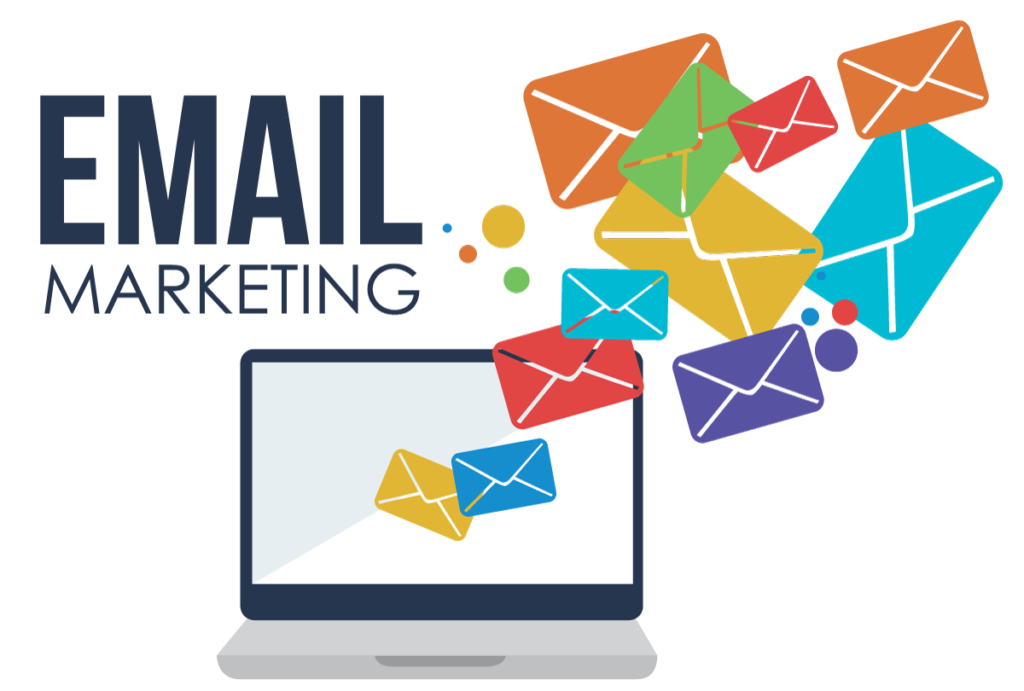 Now, we know that we can generate brand awareness or generate Leads using email marketing, what should be content of the email to make it engaging so that customers or email subscribers are driven to take action? Well, you can create email newsletters, invite users for some value-added seminars related to your product or services, create an interactive communication to know them better.
While using email marketing, you should always try to provide some insights related to your product or services, and you should also explain how your product can be problem-solving to the customer.
If you have a WordPress website, then you can use any of these email newsletter plugins. With the help of these plugins, you can collect leads and send automatic updates to your email lists.
5. Search Engine Marketing
A search engine is a place where customers go to find products or services they need. Search engine marketing is an excellent yet expensive strategy for maintaining a presence in search results and attracting these customers to your website.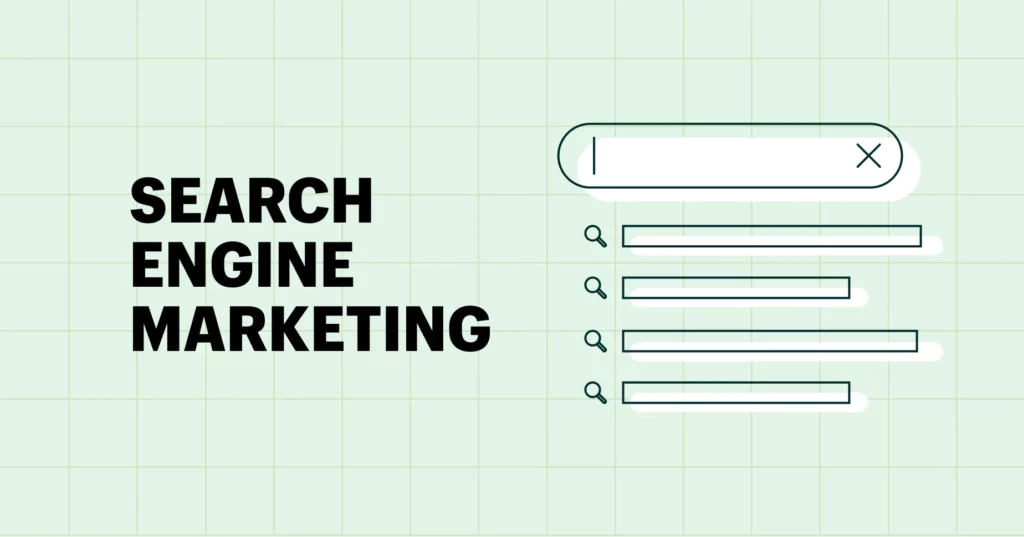 Search engine marketing or Pay per click (PPC) campaigns can drive leads to your business quickly. The general idea is to bid on cost-effective business keywords to collect leads and then close them by addressing the pain points of customers by reaching out to him via various channels.
You can buy paid search services from search engines like Google, Bing, and Yahoo to get featured in top results and ultimately generate brand awareness or leads.
Before investing in SEM campaigns, you should first perform an analysis on your landing pages and see if their flow doesn't include any unnecessary steps, such as forms with various unnecessary fields and other factors from the CRO perspective.
6. Search Engine Optimization (SEO)
The foundation of Digital Marketing is to deliver the message as many people as possible in a cost-effective manner. A search engine can play a crucial role in connecting a visitor to your web platform. Today almost 75% of the user clicks on the first search result of the Google search, so being on top of the search result is necessary.
Also: Search engine optimization is again a significant field in itself and involves several activities, from basic on-page SEO to technical website audits to building authoritative backlinks. As opposed to SEM, SEO is a long term strategy to reap profits. Here, SEOs work to rank your website on the first page of SERPs (Search Engine Results Page) on the most critical business or money-making keywords.
Search Engine Marketing is different from Search Engine Optimization as SEO requires a lot of effort in various fields like finding useful keywords, getting backlinks to improve brand trust, and much more.
Few tips from SEO point of view:
Always use trusted hosts for your site because service availability and speed of your site depends on them. Google consistently ranks websites that run faster and offers seamless user experience.
Write quality and unique content using relevant keywords. Avoid keyword stuffing and copying content from any other source.
Organize content in proper categories and submit your sitemap to search engines like Google, Bing, and Yandex.
Improve the off-page SEO of your website by getting featured or getting backlinks from authoritative sites in your industry.
Subscribe to my blog and receive all the latest posts related to SEO right in your inbox.
Now that we have discussed various components of digital marketing let's understand what a sales funnel is and how we can use it to create compelling digital marketing strategies.
What Is A Sales Funnel Or Buyer's Journey?
Sales Funnel or Buyer's Journey is a sequence of events a buyer goes through to buy a product. As a digital marketer, you should be aware of all the steps of the sales funnel, and you should take proactive actions to perform best in each stage of the sales funnel.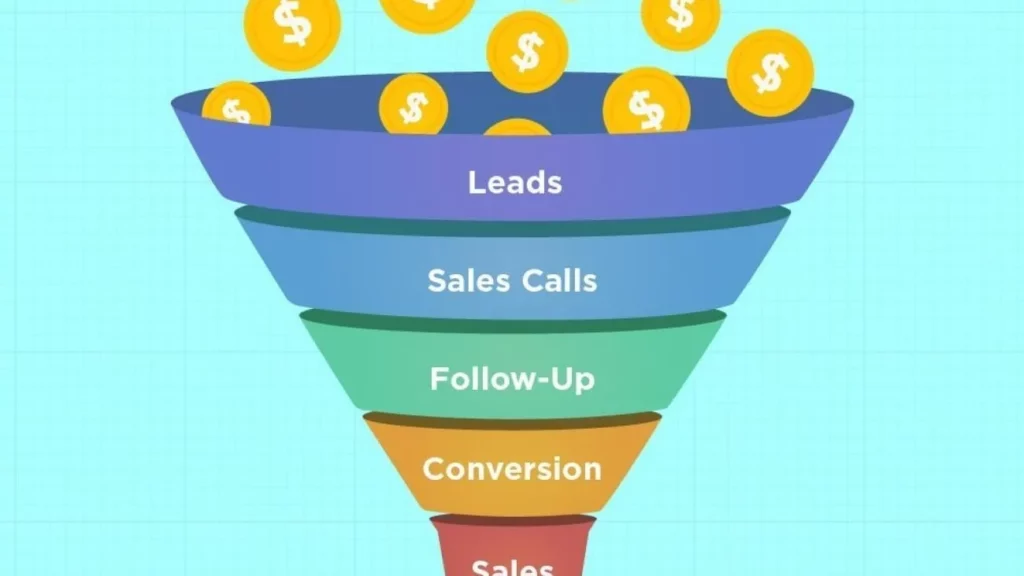 Stages of a sales funnel:
Awareness – This is the first stage of the sales funnel. In this stage, the buyer is looking for information related to the products and services he is interested in. As a good internet marketer, you should be able to drive awareness about your products.
Interest – Once people are aware of the brand and its features, they start talking about it among each other. Ultimately it starts sparking the attention of the people towards the product.
Decision– Based on their interest, people start comparing the products and services of related brands. A successful brand is the one who balances their features and cost.
Action – This is the last stage of the sales funnel. It depicts the most filtered group of users who buy the product or service. The job is not over when a customer buys your product. You should engage with them and offer unexpected benefits. This will delight your customers and make them the flag-bearer of your brand.
Sales funnel can vary from business to business because of their requirements. The complexity of a sales funnel depends on the type of product or service that is being marketed. Generating awareness about a phone that can be used as a cigarette lighter can be difficult as it is a new concept. Similarly, getting users to buy such phones can be challenging and might require additional sub-steps in the sales funnel.
Final Thoughts
Digital marketing can be an exciting area of study, but mere knowledge cannot be enough to excel in your digital venture. You should apply all the learnings into your marketing strategy. Also, you should keep experimenting as digital marketing is continually evolving with time. What works for others in the past might not be useful for you.